Click Here for Pictures of Past Hunts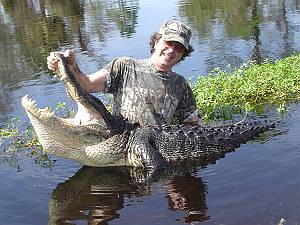 Although this is a two night hunt, it will seem like a four days. We will begin at sunset and hunt till sunrise usually over 10 hours of continuous hunting only taking small meal breaks. We will be hunting out of a 21 foot custom Go-Devil designed to take us through shallow backwater marshes. Most other guides hunt from noisy airboats, and in my opinion, not able to give you a true alligator hunting experience.




Hunting Itinerary:
Arrive in Fort Pierce
Day of Arrival
3:00 - 5:00 pm Set up bow and practice shooting
5:00 pm Depart, Dinner
7:00 pm Head to the lake to hunt
Day 2
*Sleep during the day.
5:00 pm Pick up for dinner and depart
7:00 pm Head to the lake to hunt
*The following are suggested items to bring with you.
Bow
Rain Gear
Bug Spray
Flashlight
Camera
Cooler for transporting trophy and meat
*Drinks and snacks are provided, but anything you want special please bring. Breakfast, Lunch, and Dinner are not included in this hunt.
If you wish for us to clean your gator, $10 per foot will be charged.